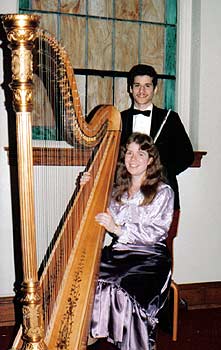 Harp and flute music can accompany any special occasion. Anniversaries, birthday parties and holiday get-togethers all need background sound to make them truly successful. Amplification is provided at no extra charge, but the sound is never overwhelming. Guests can comfortably talk and laugh, even standing right next to the duo. The Linden Duet will provide the perfect finishing touch to your special events with its tasteful and tuneful selections.
The right music adds so much to every occasion. Because this is such an important decision, The Linden Duet offers a free, no-obligation consultation. Visit Lois and Conrad in Framingham, MA and hear exactly how they sound live. Many people have never had the experience of hearing the beautiful music that the harp and the flute produce. They will play some examples for you and then discuss which would suit you the best. Their broad repertoire consists of classical to standards, beautiful love songs to contemporary classics.

Click here to listen to a few samples of our music.
Contact us
for more information or to schedule a free consultation.
Read what past clients have to say about The Linden Duet ...