CONRAD A, MANHOFF
began his study of flute at the age of 12 under the instruction of Edith M. Hemingway at the Settlement Music School in Philadelphia, PA. He played several recitals at the school and was also involved in flute master classes, composition and sight singing classes.
In 1982 Mr. Manhoff attended the Berklee College of Music where he studied jazz as well as continuing his study of classical flute music under the instruction of Matthew Marvuglio. In 1983 Mr. Manhoff transferred to The Boston Conservatory of Music for full time classical study with Boston Ballet / Boston Pops flutist William Grass. He received his bachelor's of music degree in Flute Performance in 1987 at which time he had already began working with Harpist
Lois Francello
to form The Linden Duet.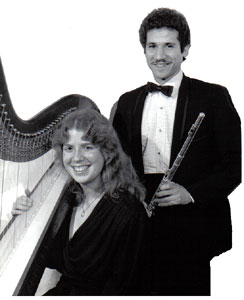 Mr. Manhoff has also been a private instructor of flute and recorder for the Shady Hill School, Mount Alvernia High School, Newton Public Schools and Watertown Public Schools where he has been teaching for 16 years. He is also the founder and director of the Watertown Flute Ensemble.
For the past 17 years Mr. Manhoff has performed throughout the New England area exclusively as part of The Linden Duet. They have done recital performances at Mount Ida College, Boston College and WMSX Radio in Brockton. Mr. Manhoff has also been a flute craftsman for the Verne Q. Powell Flute Company in Maynard for the past 16 years.
LOIS FRANCELLO
was immediately fascinated the first time she saw a harp featured in a local concert in her hometown of Allentown, PA. Her parents arranged a meeting with the harpist, Dorothy R. Knauss, and Miss Francello began lessons at age 13. Since she had already played the piano for some years, the technique of the new instrument came easily, and soon harp practice consumed most of her free time.
Deciding to pursue a career in music, Miss Francello enrolled in the Boston Conservatory in the Harp Performance program. For three years, she studied with Louise C. Pappoutsakis, former harpist with the Boston Symphony Orchestra. When Mrs. Pappoutsakis retired, Cynthia Price-Glynn, harpist with the Boston Ballet, became head of the harp department for Lois' senior year. It was also at the Conservatory that Miss Francello and
Conrad Manhoff
, flutist, formed The Linden Duet. For the past 17 years, they have performed extensively throughout the area.
From the courtyard at the Isabella Stewart Gardner Museum to the shores of Walden Pond, the harp has taken Miss Francello to many different locations. Her broad repertoire ranges from classical music to Broadway show tunes and light jazz. Recently, she has begun composing music for the harp and hopes to soon incorporate some of her original material into her performances.