Lois Francello, harpist, and Conrad A. Manhoff, flutist, provide wonderful music for your wedding or special occasion.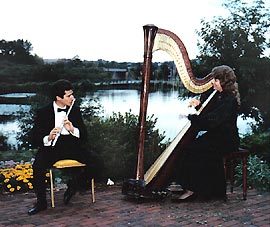 So many decisions to make and never enough time! Let us help you make those crucial choices for music for the ceremony and/or reception. With over 18 years experience performing for weddings and other special events, The Linden Duet has an extensive repertoire with music to fit every age and taste.
Click here to listen
to a few samples of our music.
Typical wedding ceremony:
Prelude:
Exquisite harp and flute music will fill the air as your guests arrive and are
seated.
Processional:
The wedding begins as the attendants come down the aisle. Bridal enters to music specifically tailored to her style and taste.
Often in the course of a ceremony, other opportunities are found for adding music: candle lighting, flower exchanges and even in between readings provide perfect moments to highlight with a special song.
Recessional: After the kiss and the cheering, a triumphal exit to beautiful, stirring music.

Postlude: The Linden Duet continues to play as your guests exit the ceremony area. The flow of the evening continues without any awkward pauses or delays.


The Cocktail Hour:

Often, the bride and groom opt to have the harp and flute music continue into the cocktail hour and reception. During this time, the music usually switches to more contemporary tunes, and popular standards. People enjoy classical music, but love hearing songs they recognize, such as "All I Ask of You" from Phantom of the Opera, or "Danny Boy" the Irish traditional song.

Working closely with you, Conrad and Lois strive to provide music to match exactly the mood and theme of your wedding.

Contact The Linden Duet by phone 508-875-6050 or email to for more information or to schedule a free consultation.